Faculty of Health Sciences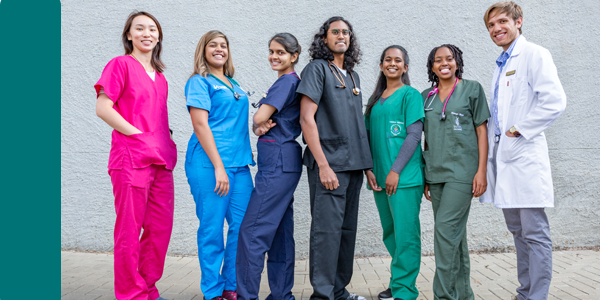 Permanent URI for this community
For information on accessing Faculty of Health Sciences content please contact Khosi Mathole via email :
nkosazana.mathole@wits.ac.za
or Tel (W) : 011 717 2277
Browse
Browsing Faculty of Health Sciences by Title
Now showing
1 - 20 of 589
Results Per Page
Sort Options
A review of congenital heart defects in children with Trisomy 21 over a 5-year period at Charlotte Maxeke Johannesburg Academic Hospital

(

2021

)

Mahomed, Raeesa Moosa Kara

Background: In the first ten years of life, mortality in Trisomy 21 (T21) is strongly associated with the presence of Congenital Heart Defects (CHDs). There is currently a lack ofl ocal and regional data regarding the prevalence, management and outcomes of children with T21 and CHDs. Objectives: To describe the prevalence, type and frequency of CHDs and revie winter ventions (cardiac catheterisation and surgery) and survival post-surgery of children with CHDs in the T21 population at a South African facility ,the Charlotte Maxeke Johannesburg Academic Hospital (CMJAH) Paediatric Cardiology Unit (PCU). Methods: A retrospective, crosssectional, observational review of 177 participants at CMJAH PCU between January 2013 to December 2017 was performed. Data collected from the PCU data base and clinical records included: demographics, echocardiographic diagnosis, details of Diagnostic Cardiac Catheterisation (DCC), Interventional Cardiac Catheterisation (ICC) and surgery required and performed, age at diagnosis and intervention as well as survival post-surgery. Results: There were 128 participants with laboratory-confirmed T21 and CHD on echocardiography meeting inclusion criteria. The majority of participants were female (56.0%) and African (97.0%). The median age at presentation was six (IQR9.75) months. The prevalence of CHDs was 77/128 (60.2%) and 58/77 (75.3%) had a single CHD. The most frequent CHD was an Atrioventricular Septal Defect (AVSD) (38) (with or without another associated CHD) .DCC was required in 60/77 (77.9%) participants and 25/60 (41.6%) were performed. The median age at DCC was 15 (IQR 15) months. One participant with isolated PDA required and under went successful ICC for PDA closure at 17 months. Surgery was required in 60/77 (77.9%) of participants, while 15/60 (25.0%) surgeries were performed. Almost half of DDCs and surgeries not performed were due to participants lost to follow up (40% and 45% respectively). The median age at first surgery was 31 (IQR 24) months. The most common surgery was an AVSD repair (73%). Post-surgery survival was 93.3% at hospital discharge, 3-week and 6-month follow-up and 86.7% at 1-year follow-up . Conclusion: The prevalence, type and frequency of CHDs in the CMJAH T 21 population is comparable to global data. The age at presentation was not optimal for early intervention, and there was further delay in catheterisation and surgery. Survival post-surgery compares favourably with other centres even though surgery was performed at a much later age than the age recommended for best outcome (sixmonths). Early screening , diagnosis and intervention can prevent morbidity, mortality due to CHDs and may decrease the financial burden on the healthcare system.

Accurate diagnosis of occlusal carious lesions - a stereo microscope evaluation of clinical diagnosis

(

2002

)

Grossman, E. S.

;

Cleaton-Jones, P. E.

;

Côrtes, D. F.

;

et al

This study was undertaken to validate the caries status of 214 teeth by serial sectioning and microscopy after caries diagnosis using four methods. Two hundred and fourteen extracted human teeth with varying degrees of caries were mounted in the jaws of nine training manikins. All tooth surfaces were examined and recorded for caries by four dentists using bitewing radiographs, fibre-optic transillumination (FOTI), mirror alone and a mirror and sharp probe on two separate occasions. Thereafter the teeth were serially sectioned and assessed microscopically for depth of caries lesion on a graded score of 0-7. This report assessed the diagnostic outcome of 2,183 observations for occlusal surfaces. Sound diagnoses predominated over unsound until caries was present in the inner half of dentine. Specificity was between 90% and 95% and sensitivity 26% and 50% depending on which diagnostic method was used and where the sound/unsound threshold was set. Negative and positive predictive values were similarly influenced and varied between 53% and 80% and 73% and 90%, respectively. Probit analysis showed no significant differences (P < 0.05) between examiners and diagnostic methods. Diagnosis of occlusal caries undertaken in an in vitro simulated clinical situation is inaccurate until the caries lesion extends deep into the dentine no matter which of the four methods was used.

The activities of hospital nursing unit managers and quality of patient care in South African hospitals: a paradox?

(

2015

)

Armstrong, S J

;

Rispel, L C

;

Penn-Kekana, L

Background: Improving the quality of health care is central to the proposed health care reforms in South Africa. Nursing unit managers play a key role in coordinating patient care activities and in ensuring quality care in hospitals. Objective: This paper examines whether the activities of nursing unit managers facilitate the provision of quality patient care in South African hospitals. Methods: During 2011, a cross-sectional, descriptive study was conducted in nine randomly selected hospitals (six public, three private) in two South African provinces. In each hospital, one of each of the medical, surgical, paediatric, and maternity units was selected (n 36). Following informed consent, each unit manager was observed for a period of 2 hours on the survey day and the activities recorded on a minute-by-minute basis. The activities were entered into Microsoft Excel, coded into categories, and analysed according to the time spent on activities in each category. The observation data were complemented by semi-structured interviews with the unit managers who were asked to recall their activities on the day preceding the interview. The interviews were analysed using thematic content analysis. Results: The study found that nursing unit managers spent 25.8% of their time on direct patient care, 16% on hospital administration, 14% on patient administration, 3.6% on education, 13.4% on support and communication, 3.9% on managing stock and equipment, 11.5% on staff management, and 11.8% on miscellaneous activities. There were also numerous interruptions and distractions. The semi-structured interviews revealed concordance between unit managers' recall of the time spent on patient care, but a marked inflation of their perceived time spent on hospital administration. Conclusion: The creation of an enabling practice environment, supportive executive management, and continuing professional development are needed to enable nursing managers to lead the provision of consistent and high-quality patient care.

Acute coronary syndromes in black South African patients with human immunodeficiency virus infection

(

2011-10-19

)

Becker, Anthony Charles

Background: South Africa is considered to be a country in epidemiologic transition with increasing rates of cardiovascular disease. In addition, it faces an HIV pandemic, with an estimated 5.5 million people infected and five hundred thousand HIV-related deaths annually. Current evidence suggests that patients infected with HIV are at a heightened risk for acute coronary syndromes (ACS) related to traditional cardiovascular risk factors, as well as factors related to the virus and its treatment (highly active anti-retroviral therapy (HAART)). HIV infection itself may independently predispose to coronary artery disease (CAD) by promoting endothelial dysfunction, a heightened pro-inflammatory state, dyslipidaemia and thrombosis, the aetiology of which is thought to be multifactoral in nature. Protease inhibitor (PI) therapy, as part of HAART, has the potential to induce an adverse metabolic phenotype, including: dyslipidaemia, insulin resistance, endothelial dysfunction and a prothrombotic state. The attributable risk of these factors in HIV-associated CAD and ACS is currently unknown, but it seems that the risk of ACS is increased by prolonged exposure to PI's. No data currently exists on CAD in HIV patients not receiving HAART, which is problematic considering that this makes up the majority of patients in sub-Saharan Africa and that the combination of epidemiologic transition and HIV infection has the potential for greater cardiovascular morbidity, particularly with respect to atherothrombotic events. viii Aims: The aims of this thesis are twofold. Firstly, to confirm reports of epidemiologic transition in South Africa from a broad epidemiological perspective. Secondly, by focusing on treatment-naïve HIV positive black South Africans with ACS, it aims to determine differences compared to HIV negative patients with respect to demographics and risk factors, angiographic and treatment related factors as well as markers of thrombosis and inflammation with a view to providing more focused primary and secondary prevention. Methods: All the studies contained in this thesis were conducted in the Department of Cardiology, Chris Hani Baragwanath Hospital and adhere to the declaration of Helsinki. The first of the epidemiological studies, The Heart of Soweto (HOS) study (Chapter 3), was a prospectively designed registry that recorded epidemiologic data relating to the presentation, investigations and treatment of 1593 patients from Soweto with newly diagnosed cardiovascular disease during the year 2006. The second study (Chapter 4) was a cross sectional study of patients with ACS admitted to the Baragwanath coronary care unit over the year 2004 compared to the years 1975-1980. The HIV sub-study (chapters 5-8) was a prospective single centre study conducted from March 2004 to February 2008. During this time, 30 consecutive black HIV patients presenting with ACS (ACS+: HIV+ group) were enrolled. For each HIV patient with ACS, the first presenting non-HIV black patient with ACS was selected as a case control comparator (ACS+ : HIV- group). In addition, a second control group of 30 asymptomatic HIV patients, who were matched for age, sex and ethnicity (ACS- : HIV+ group), were recruited from the HIV clinic. The methodology used to compare the groups involved: clinical and demographic data collection, routine blood test evaluation, angiographic ix analysis and specific laboratory testing of various research blood parameters (including thrombotic screening and markers of inflammation and endothelial activation). Results: Chapter 3 presents the results of the large HOS study, which showed good evidence to support the theory of epidemiologic transition in Soweto. Adding to this data are the results of Chapter 4, which clearly demonstrate a substantial increase in the number of patients diagnosed with ACS at Baragwanath in recent years. Consistent with a population in epidemiologic transition, there was more than a ten-fold increase in the rate of coronary events over two decades, paralleled by increased rates of modifiable risk factors. Chapter 5 presents the clinical and angiographic data from the HIV sub-study. HIV patients with ACS were younger and had fewer traditional risk factors for CAD except for higher rates of smoking and lower HDL cholesterol levels. HIV patients had less atherosclerotic burden angiographically, but a higher thrombus burden in the infarct related arteries, suggesting a possible prothrombotic state. In addition, HIV patients had higher rates of in-stent restenosis of bare metal coronary stents at follow up. Chapters 6 and 7 present data on the thrombotic parameters between the groups, with Chapter 6 focusing mainly on coagulation pathways and Chapter 7 focusing on antiphospholipid antibodies (aPL). Chapter 8 presents data on levels of pro-inflammatory cytokines and endothelial activation markers. Greater evidence of thrombophilia was found in HIV patients with ACS as evidenced by lower Protein C (PC) levels, higher levels of Factor VIII and a higher inflammatory burden with greater degrees of endothelial cell activation - all of which increase thrombotic risk. Antiphospholipid antibodies were more prevalent in HIV patients but did not seem to be causal in the pathogenesis of thrombosis. x Conclusion: Soweto, a large, predominantly black urban area in South Africa, is in a state of epidemiologic transition, with an increasing prevalence of modifiable cardiovascular risk factors and ischaemic heart disease. Treatment-naïve HIV positive black patients presenting with ACS have different clinical and angiographic features compared to the HIV negative population. The patients are younger, more commonly male, with high rates of smoking, lower HDL levels and less atherosclerotic burden. However, there is a higher thrombotic burden, suggesting a prothrombotic state, which was evident by lower PC levels, higher factor VIII levels with a higher inflammatory burden and a greater degree of endothelial cell activation – all factors associated with a pro-atherogenic and prothrombotic state. The exact pathogenic role of HIV, independent of associated modifiable and non-modifiable risk factors, is difficult to determine, but may be important as a contributory factor in an already "vulnerable" patient. Importantly, we identified modifiable risk factors in the HIV group. Smoking may play a crucial role in the pathogenesis of ACS in these otherwise seemingly low risk patients and remains an important target for cardiovascular risk reduction. The role of HDL in the pathogenesis and prevention of HIV-associated CAD needs to be further defined, as does the role of drug eluting coronary stents in the prevention of in-stent restenosis. Cardiovascular risk assessment and appropriate primary prevention should be an important component in the management of HIV patients, regardless of treatment status. With the anticipated increase in CVD in South Africa, further research projects appropriate to the South African context will be vital in order to explore cost effective ways to provide primary and secondary prevention in order to effectively deal with the burden of epidemiological transition as well as the cardiovascular burden likely to be imposed by the HIV pandemic.

Advances in osteogenin and related bone morphogenetic proteins in bone induction and repair

(

1992

)

Luyten, F. P.

;

Cunningham, N. S.

;

Vukicevic, S.

;

et al

Bone matrix is a repository of growth and differentiation factors as demonstrated by the induction of local cartilage and bone formation in rats. The bone inductive activity, termed osteogenin, can be dissociatively extracted, and it was isolated by heparin affinity, hydroxyapatite and molecular sieve chromatography. Osteogenin has been purified to homogeneity from bovine bone matrix and the sequences of several tryptic peptides have been determined. The sequences were similar to portions of the amino acid sequence deduced from the cDNA clone of bone morphogenetic protein-3 (BMP-3). The carboxyl-terminal quarter of osteogenin has sequence identity to the corresponding regions of two related proteins BMP-2A and BMP-2B. The bone inductive proteins are members of the TGF-beta superfamily, by virtue of the location of the highly conserved cysteines in their carboxyl-terminal region. Osteogenin and related BMPs initiate cartilage and bone formation in vivo. The study of the mechanism of action of these proteins will add considerable new information on the molecular signals controlling endochondral bone formation. In vitro data indicate that osteogenin stimulates the expression of the osteogenic and chondrogenic phenotypes. Our results demonstrate their profound influence on proteoglycan synthesis and degradation in bovine cartilage explant cultures. High affinity specific binding sites have been identified in both MC3T3 cells and articular chondrocytes. In vivo experiments demonstrate the efficacy of primate osteogenin in restoring large calvarial defects in adult baboons, establishing a primary role for osteogenin in therapeutic initiation and promotion of osteogenesis.

Aids and the workplace with a specific focus on employee benefits: Issues and responses

(

Centre for Health Policy - School of Public Health - University of the Witwatersrand

,

2001

)

Stevens, Marion

EXECUTIVE SUMMARY

This report reflects the first activity in a three-year research project, funded by the European Union, which is part of a programme of support to NGOs which are working with communities to combat discrimination against and provide support for people with HIV/AIDS. The aim of the project is to investigate, using a variety of methods, the world of AIDS and the workplace with a specific focus on employee benefits. These benefits include medical schemes and other health benefits, death, disability and pension funds. The research will concentrate on the experience of formally employed, unskilled or semi-skilled workers who are vulnerable because employers consider them dispensable or replaceable should they get ill or die, and whose employee benefits may be eroded in the face of HIV. By creating workplaces which are supportive of individual employees, one sustains households and, in turn, the broader society. This report presents the findings of an initial situational analysis of responses to HIV in the workplace, using a policy analysis methodology, which combined documentation review and key informant interviews with 27 players in the field.

The report starts with a review of the South African literature and documentation on HIV/AIDS and the workplace. Available evidence on the direct and indirect impacts of HIV on workplaces and the current models used to project impacts are presented; the legal and policy frameworks relevant to AIDS in the workplace are summarised; and a chronology of key events and processes that have informed this area are noted.

The main body of the report outlines responses to HIV/AIDS of the three major players: government, the private sector including NGOs, and trade unions. In each sector consideration is given to the areas of: leadership and organisational responses, networking and policy processes, and workplace policies and programmes including health care.

While a legal framework and a set of legal precedents for a rights-based orientation to HIV in the workplace have been established, prohibiting, for example, pre-employment HIV testing, a consistent and sound response to HIV in the workplace has yet to emerge. The report concludes that there is a need for strong, bold and coherent leadership in all sectors of society.

Responsibility for workplace HIV/AIDS programmes has generally been delegated to human resource departments, rather than being seen as a core management issue. The overall view noted by stakeholders was of strategic failures in managing HIV/AIDS in the workplace due to the lack centralised responsibility and commitment within organisations. The business sector and the trade union movement need to ensure that HIV/AIDS is fore-grounded as an issue and that it is the concern of the most senior leaders in their sectors. Many interviewees also felt that there was a need for better alliances and networking on workplace issues, and that government needed to play a leadership role in this regard.

Respondents across sectors called for planning to be informed by better data. These data need to be independent, open to scrutiny and separate from private interests.

Workplace benefits have undergone considerable restructuring in response to HIV. In the early-nineties schemes changed from defined benefit to defined contributions, motivated by the perceived impact of HIV on risk benefits. During the late-nineties some schemes evolved from group schemes to individualised packages, anti-retroviral drugs became more available in medical schemes, the outsourcing of unskilled functions appeared as a particular response to HIV and new HIV insurance packages became available for workplaces. During v AIDS and THE WORKPLACE WITH A SPECIFIC FOCUS ON EMPLOYEE BENEFITS: ISSUES AND RESPONSES 2001. Centre for Health Policy. 2001, several companies announced their intentions to provide anti-retroviral treatment for semi-skilled and unskilled employees. These changes have been in response to assessments of direct and indirect HIV-related costs and the requirement to adapt to the reforming legal framework. Developments in the field have prompted the emergence of a range of new players dealing with disease management and impact assessments.

The effect of this restructuring has been several fold. Individuals often have to negotiate for benefits directly with insurance companies, as opposed to their companies taking responsibility for this. This has left employees more vulnerable. While routine pre-employment testing is no longer legal, it is apparent that many individuals are losing cover through pre-benefit testing. As a contrary trend, there is a growing realisation, in the face of declining drug prices, that HIV/AIDS treatment is affordable and cost effective in managing the health of employees. However, there is the danger that anti-retroviral therapy, for example, will be offered to some employees and not others. This is clearly of concern in terms of equity and discrimination.

Finally, there is a need to counter the notion that businesses will be able to cope with the HIV/AIDS pandemic because of 'the ease of substitution' . This rationale is neither positive nor constructive. Businesses need to balance their fiduciary duties by remaining profitable and viable yet being fair and socially responsible.

Airway status in civilian maxillofacial gunshot injuries in Johannesburg, South Africa

(

2002

)

Tsakiris, P.

;

Cleaton-Jones, P. E.

;

Lownie, M. A.

BACKGROUND: Airway management of the maxillofacial gunshot injury constitutes a critical decision and an area that requires review in the context of civilian injuries. Most of our knowledge is extrapolated from military experience, which constitutes a different trauma patient group. This paper reports a retrospective survey of airway status in relation to maxillofacial gunshot injuries. The objective is to correlate clinical findings with treatment decisions. METHODS: A survey was done of 11,622 archived maxillofacial surgery records (1987-1992) in the three academic hospitals in Johannesburg. RESULTS: There were 211 maxillofacial gunshot injuries, for which 92 patient records had sufficient detail for inclusion in the analysis. The typical patient was a black male aged 20-29 years, shot with a low-velocity bullet of 0.38 calibre, admitted to hospital the day of the injury, operated on within 4 days, and discharged 4 days later. The airway was threatened in 20/92 cases at admission; 12/20 cases were treated with oro-or nasotracheal intubation, and 9/12 later had elective tracheostomies; 8/20 needed immediate surgical airways, 5 tracheostomies and 3 cricothyroldotomies (all later converted to tracheostomies). Three of thirty-seven patients with normal airways on admission later required emergency tracheostomy. CONCLUSIONS: An abnormal airway was significantly more likely after a high-velocity injury, and when the tongue, floor of mouth, midline or bilateral facial skeletal bones were involved.